President Recep Tayyip Erdogan said Ankara had already paid the deposit on the deal, estimated to be worth $2.5bn (£1.9bn).
Turkey has the second-largest army in Nato. Alliance members are urged to buy compatible weapons systems.
Turkey has been establishing closer links with Russia after its recent souring of ties with the US.
Turkey objects to US military support for the YPG Syrian Kurdish rebels, who are linked to rebel Kurds in Turkey.
Russia says the S-400 system has a range of 400km (248 miles) and can shoot down up to 80 targets simultaneously, aiming two missiles at each one.
Russia deployed the S-400 at its air force base near Latakia in Syria in December 2015, after Turkish jets had shot down a Russian Su-24 warplane on the Syria-Turkey border.
That incident caused a diplomatic rift between Russia and Turkey, but President Erdogan later patched up his quarrel with President Vladimir Putin.
A military adviser to Mr Putin, Vladimir Kozhin, said the S-400 contract with Turkey was "strictly compatible with our strategic interests". "On that score, one can quite understand the reaction of some Western countries who are trying to put pressure on Turkey."
Mr Erdogan, quoted by Turkey's Hurriyet daily, voiced displeasure with unnamed Western partners who were "seeking enormous amounts of money" for military drones.
He said Turkey had killed 90 YPG "terrorists" in the past week with Turkish drones – developed because the Western ones were too expensive.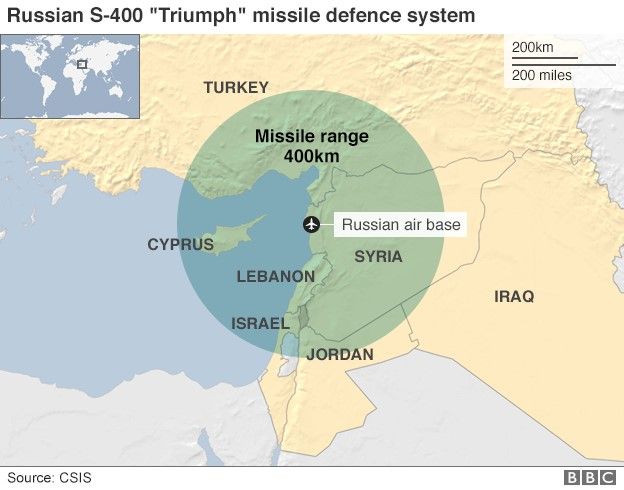 Manufacturer: Almaz-Antey arms firm; Deployment: Hmeimim airbase near Latakia – entered service in Russia in 2007; Range: 400km (248 miles); Speed: up to 4.8km (3 miles) per second; Max target height: 30km – can track up to 80 targets simultaneously; Types of target: aircraft, cruise missiles, medium-range missiles, drones, other airborne surveillance systems. (Sources: RIA Novosti, Russian 1TV.ru)
How it works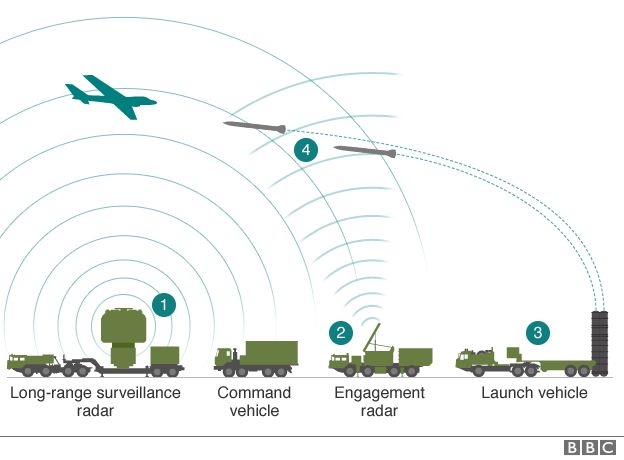 Long-range surveillance radar tracks objects and relays information to command vehicle, which assesses potential targets
Target is identified and command vehicle orders missile launch
Launch data is sent to the best placed launch vehicle and it releases surface-to-air missiles
Engagement radar helps guide missiles towards target