A man has died and 10 people have been injured after a man drove a van into worshippers near a north London mosque.
The van struck people after mounting the pavement just after midnight BST outside Muslim Welfare House, near Finsbury Park Mosque. A 48-year-old man has been arrested.
Home Secretary Amber Rudd said police were treating it as a "terrorist incident".
Eyewitness Abdul Rahman said the driver said he wanted to "kill all Muslims".
Mr Rahman told the BBC he struck the man and helped subdue him.
"When the guy came out from his van he wanted to escape, run away and he was saying 'I want to kill Muslims. 'I want to kill Muslims.'
"I hit him on his stomach… and then me and the other guys… we held him to the ground until he couldn't move. We stopped him until the police came."
Counter-terrorism officers are at the scene, the Metropolitan Police said.
And extra police are being deployed to reassure communities, especially those observing Ramadan, Mayor of London Sadiq Khan said.
He also said his "thoughts and prayers" were with those affected by the "horrific terrorist attack on innocent people".
"While this appears to be an attack on a particular community, like the terrible attacks in Manchester, Westminster and London Bridge it is also an assault on all our shared values of tolerance, freedom and respect."
Metropolitan Police's deputy assistant commissioner Neil Basu said the attack began when the van was driven into a man who was already being given first aid by the public on the pavement.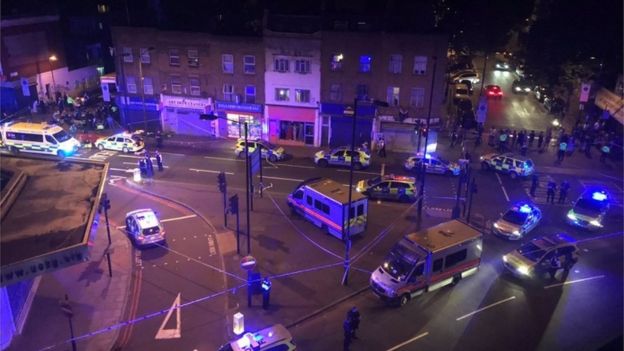 "Sadly that man has died. It is too early to state if his death was a result of this attack."
All the victims were Muslim and there are currently no-other suspects, he added.
The 48-year-old man has been arrested on suspicion of attempted murder.
Corbyn 'shocked'
Some witnesses at the scene – near Finsbury Park Station and Arsenal's Emirates stadium – said more than one attacker may have been involved.
But the Met said: "At this early stage of this investigation, no other suspects at the scene have been identified or reported to police, however the investigation continues."
Mrs Rudd described it as an appalling incident, and said new funding for security at religious sites had recently been arranged.
"We have a places of worship fund which we announced last summer, which is there to protect places of worship like mosques. We will make sure that we do all we can to reduce these sort of attacks."
Environment Secretary Michael Gove said the attack was a "disgusting and immoral act".
"Words fail me that someone could find it in their heart to behave in this way."
Labour leader and Islington North MP Jeremy Corbyn said on Twitter: "I'm totally shocked at the incident at Finsbury Park tonight.
"I've been in touch with the mosques, police and Islington council regarding the incident. My thoughts are with those and the community affected by this awful event."
Mr Corbyn also said he would be attending prayers at Finsbury Park Mosque later on Monday with Islington Council Leader Richard Watts.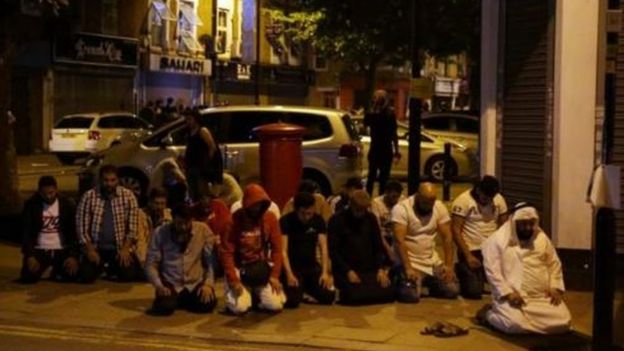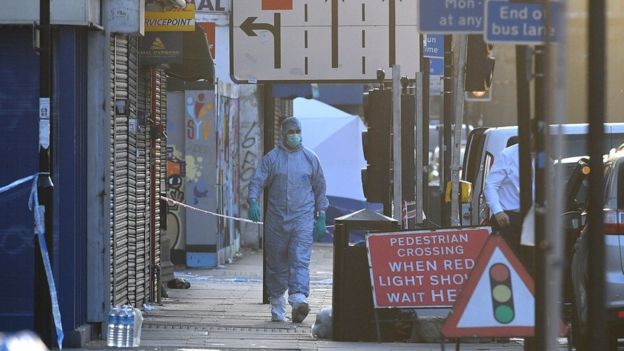 Labour's shadow home secretary and Hackney North and Stoke Newington MP Diane Abbott said on Twitter that police "must urgently review security for all mosques".
Green Party co-leader Caroline Lucas said she was thinking of the community and emergency services, adding: "We will not be divided.
Witness Cynthia Vanzella said on Twitter: "Horrible to watch police officers doing cardiac massage at people on the floor, desperately trying to save them. I just hope they did."
The MCB said its "prayers are with the victims"